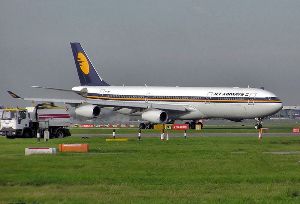 In an encouraging development for the harried aviation market, domestic passenger traffic increased by a phenomenal 23 per cent last month over the same period last year, indicating a revival of the industry.
Passengers carried by all airlines in January stood at 41.41 lakhs (4.14 million), compared to 33.76 lakh (3.37 million) in 2009, registering a growth of 22.7 per cent, official air traffic figures released on Friday, said.
However, the January figures are lower than 44.87 lakh (4.48 million) passengers carried in December.
Jet Airways and its subsidiary JetLite jointly led the way in the reporting month carrying 10,28,000 passengers, followed by Kingfisher Airlines with 9,08,000 and Air India (domestic) 7,34,000, according to the figures.
Among the no-frills carriers, IndiGo, like before, is the leader with 6,25,000, followed by SpiceJet with 500,000, GoAir 2,20,000 and the all-business class Paramount Airways carrying 72,000.
The Jet-JetLite combine cornered one-fourth (25.4 per cent share of the total domestic market, followed by Kingfisher at 22.2 per cent, Air India at 18 per cent, IndiGo at 15.3, SpiceJet at 12.2, GoAir 5.4 and Paramount 1.8 per cent.
Though lowest in market share ranking, Paramount has the highest seat factor or maximum seat occupancy at 87.8 per cent in January, according to official figures.
The Chennai-based full-business class airline, but operating in the no-frills category, is followed by IndiGo with 83.2 per cent seat factor, SpiceJet with 82.1 per cent, GoAir 77.1 per cent, JetLite 74.9 per cent, Kingfisher 76.4 per cent, Jet Airways 73.7 per cent and the state-owned Air India at 73.6 per cent.
The seat factor figures clearly indicate travellers preference for flying on the no-frill carriers rather than the full-service ones.
In analysing the on-time performance of these carriers, it can be noted that the cancellation of flights, which seriously hamper travel plans, peaked at 5.7 per cent in January.
However, considering the highly inclement weather of January when the whole of the Northern region was enveloped in thick fog for weeks, it could be concluded that more flight cancellations were not due to airlines but external factors.
While 67 per cent of cancellations were due to inclement weather conditions,cancellations by airlines due to commercial and other considerations stood at 24.5 per cent and the remaining ones caused by technical reasons.
The cancellation rate of Jet and JetLite were the highest at 12.6 and 9.2 per cent respectively, while the lowest rates of 2.2 and 2.5 per cent were registered by IndiGo and Air India. Kingfisher's cancellation rate was also on the higher side at 5.8 per cent.