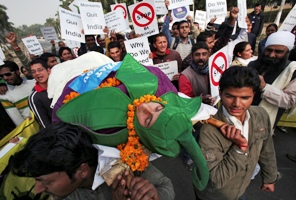 The environment ministry's moratorium on the commercial release of Bacillus thuringiensis (Bt) brinjal in India is unlikely to keep the genetically modified crop out of Indian kitchens.
It may creep in via Bangladesh and Philippines, according to A R Reddy, co-chair of Genetic Engineering Approval (now Appraisal) Committee that approved the vegetable for commercial use.
Both countries, he said, were in an advanced stage of research and it was only a matter of time before this variety was released in their respective countries.
Once that happened, it would be tough for the government to keep an eye on the movement of seeds, said Reddy who is also vice-chancellor of Yogi Vemanna University in Kadapa in Andhra Pradesh.
He pointed out that Bt cotton found its way to Andhra Pradesh and was clandestinely cultivated in about 20,000 hectare because commercial cultivation was delayed in the state, though Gujarat had allowed it.
Reddy, who took charge as vice-chancellor on Wednesday, is deeply critical of the environment minister's decision. He told Business Standard that the moratorium on Bt brinjal would hamper the progress of research on bhindi, tomato, cabbage and other vegetables.
"Research on Bt brinjal was conducted over nine years from 2001 to 2009. The deliberations during this time indicated that it is safe,"  he said pointing out that China has approved Bt rice, which has a higher Bt protein than the one in brinjal.
"If rice can be safe, why not brinjal," he asked.
Referring to Ramesh's statements that the moratorium could be used to conduct additional tests, Reddy said, "It is not clear what kind of additional tests are needed.
Who will prescribe them? Who actually advised the government on additional  tests? What it is the structure of the consultations that led to this decision?"
Reddy said by imposing a moratorium on Bt brinjal the government has sent the wrong signals to the scientific community and would hamper innovation.
"Agreed, there is no hurry to introduce Bt brinjal. But isn't nine years a fair amount of time to come to a decision?" he asked.
The tests for Bt brinjal were conducted  by the Tamil Nadu Agricultural University, University of Agriscience (Dharwar) and Institute of Vegetable Research.  All these were public institutions, Reddy added.
The GEAC co-chair was also unhappy that the government had modified the full form of GEAC to replace the word "approval" with appraisal.
"If the government did not care for the recommendations made by the GEAC, comprising scientists from 20 institutions,  the doubts should have been sent back to the committee for clarifications.
"The additional tests required should have also been mentioned to it,'' he said adding that in the past nine years Mahyco has been given 21 permits for Bt brinjal.
Reddy added that it would be difficult to keep the private sector out of the commercialisation of seed technologies. Moreover, the public sector should do research on the technologies.
"The government should rather regulalate the commercialisation of technologies and not actually do it itself,'' he said.
Reddy suggested that instead of a blanket moratorium, the government should have allowed the commercial cultivation in limited areas with strict surveillance and conduct various tests.
Hybrids were not needed every year and other variants could well be cultivated. Bt brinjal would not alter the soil so much that it would not allow cultivation of other seeds.
He accepted the minister's argument in favour of an independent biotechnology regulatory authority. "The new authority should be akin to United States Food and Drug Administration," he said.
On Bt brinjal posing a threat to the native species of the brinjal, he said there were several species that were not crossable.
Image: Students hold a mock funeral procession against Bt (Bacillus thuringenesis) brinjal or genetically modified brinjal in Chandigarh. | Photograph: Ajay Verma/Reuters