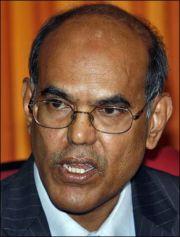 Growing fiscal deficit as a result of governments' efforts to prop up their respective economies has the potential to undermine the autonomy of central banks, whose credibility has already been dented due to the financial meltdown, RBI Governor D Subbarao said on Friday.
Noting that government debt in advanced economies is projected to jump from 78 per cent of GDP in 2007 to 118 per cent by 2014, he said at a conference here that higher fiscal dominance may impede the autonomy of central banks.
Even in India, the government is looking toward borrowings for meeting 40 per cent of its budgeted expenditure (which was over Rs 10 lakh crore (Rs 10 trillion) in 2009-10).
"In such a scenario, what are now seen as cyclical fiscal deficits may, in fact, morph into structural fiscal deficits. We may then see the return of fiscal dominance and undermining of the independence of central banks," he said.
"Beyond the short-term, the threat to the independence of central banks emanates from factors apart from public anger. . . as countries contemplate exit from these expansionary policies, the familiar tensions between monetary and fiscal policies are showing up again," the RBI governor said.
He cautioned that these tensions were unlikely to go away even when world economies recover from the financial meltdown, raising questions on autonomy of central banks worldwide.
"Many believe that these tensions are temporary, and will melt away once recovery takes root. . . that may not well be the case," Subbarao said.
Last month, the RBI governor had said that the reversal of monetary accommodation cannot be effective unless there is also a rollback of Government borrowings.
Signalling its exit from the easy money policy, the RBI last month hiked the cash component banks have to park with it by 0.5 per cent to 5.75 per cent absorbing Rs 36,000 crore (Rs 360 billion) from the system.
Subbarao said the crisis has dented the credibility of central banks worldwide and said that the case for central bank independence is coming under increasing assault as a result of crisis-led developments.
On capital flows, the governor said that capital flows can also potentially impair the financial stability of the economy.
Later, talking to reporters, Subbarao said the Reserve Bank has adopted a calibrated approach towards the management of cross-border fund-flows.