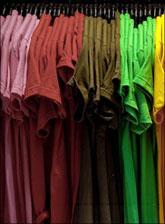 Having shown some initial signs of recovery in November, India's apparel exports declined by over 11 per cent to $862 million in December 2009 on account of poor demand from the United States and the Euro zone.
The exports stood at $973 million in December 2008, according to the Apparel Export Promotion Council (AEPC) data.
"There was a silver-lining in November as the exporters had received orders for the Christmas season. But, in December the exports were negative as they did not get any fresh orders from the stores in the US and European markets," AEPC chairman Premal Udani said.
The US and the European Union together account for 70 per cent of India's garments exports.
"Seeing the garment export trend since April this fiscal, we think it would be difficult to achieve the last fiscal's export level of $10.9 billion," Udani said.
Garment exports took a beating since October 2008 due to the global economic crisis.
During April-December 2009, apparel exports declined by 7.63 per cent to $7 billion against $7.6 billion in the same period previous fiscal.
The apparel export industry provides employment to about 3.5 million workers directly and another three million indirectly.