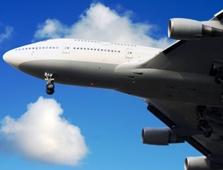 State-owned oil firms on Monday cut aviation turbine fuel price by 2.5 per cent on falling global rates to give some relief to Indian carriers.
Jet fuel price in Delhi was cut by Rs 974 per kilolitre or 2.5 per cent to Rs 37,982 per kl effective midnight on Monday, an official of the Indian Oil Corporation, said.
This is the second reduction in ATF rates this month, with prices cut by as much as 5.5 per cent on February 1 to Rs 38,956.38.
Jet fuel constitutes roughly 40 per cent of the operating cost of an airline and the reduction in fuel rates would help ease the burden on Indian carriers.
No immediate comment was available from airlines on the impact the latest cut would have on air fares.
The two cuts have more than negated the steep 6.5 per cent hike in ATF rates of January 16 when IOC and other state-owned fuel retailers Hindustan Petroleum and Bharat Petroleum raised ATF price to Rs 41,216.43 per kl.
The fuel rates are now at par with those prevalent in October 2009. In Mumbai, the rates were reduced by Rs 1,015 to Rs 39,167 per kl.
The three oil firms revise jet fuel prices on the first and the 16th of every month based on the average global oil price in the previous fortnight.
The basket of crude oil India imports has averaged $72.09 this month against the January average of $76.61.
Almost all major airlines refused to react to the cut in ATF prices, and said they would do so only after looking at the cumulative impact of the reduction.
The spokespersons of Kingfisher Airlines, Jet Airways, Air India, SpiceJet and IndiGo, when contacted, said it was too early to respond to questions on whether the air fares would go down due to the fall in jet fuel prices.