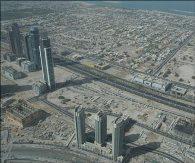 The UAE property market will see a general decline in performance during 2010 and will experience greater differentiation as some locations will perform better than others, a new report has revealed.
In spite of the on-going decline in values plus an oversupply and higher vacancy scenario, the selective stability will result in a polarising effect on the market and will give rise to distinct winners and losers in the real estate sector, real estate investment and advisory firm Jones Lang LaSalle (JLL)has unveiled.
Craig Plumb, Head of Research at JLL said, "The rate of decline may be comparatively less in 2010 than in 2009 but the timing of recovery will depend on additional demand from both investors and tenants.
As the markets mature, investors need to take a longer term view as the levels of returns are expected to become more stable and sustainable." JLL's 'Top 10 for 2010' are projections of the trends expected to shape the UAE real estate market for 2010 and beyond.
Blair Hagkull, managing director, JLL said, "In 2010 the UAE real estate market is moving away from the off-plan sales model towards a longer term model based on secure cash flows." Real estate investment vehicles are being redefined as more interest is shown towards co-investment vehicles. However, the general downturn in market performance is not affecting all locations or assets type equally.
The level of returns is expected to be more stable in quality projects and locations as they are performing comparatively better than others, the report said.
"As per the report, the year 2009 marked the end of a transformational decade for the UAE real estate sector as the market shifts from a period of asset and value creation to that of asset management and value retention in 2010 and beyond. The shift in focus from creation of new assets to management and value enhancement of existing assets is a sign of maturity for the real estate market."
In the last five years, 60 per cent of the housing stock comprising luxury and secondary homes was targeted for 16 per cent of the market who were mostly investors and speculators, said the report.