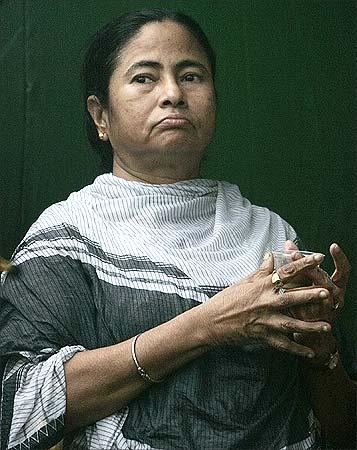 Thursday was a day of high drama with a senior Cabinet minister bursting into tears after getting a dressing down from an even more senior Cabinet colleague, and the allies ganging up against Congress ministers over the decontrol of fertilizers and the increase in the price of urea.
At the Cabinet meeting in Delhi, urea price increase was vociferously opposed to by Trinamool Congress chief and Railway Minister Mamata Banerjee, Nationalist Congress Party boss and Agriculture Minister Sharad Pawar, National Conference president and New & Renewable Energy Minister Farooq Abdullah, and Dravida Munnetra Kazhagam leader and Textiles Minister Dayanidhi Maran.
These leaders pilloried the government using simple logic: prices of essential food commodities are already at an unprecedented high and an increase in fertilizer costs would lead to an even bigger rise in food prices, hitting the farmers and the aam aadmi.
Amid various arguments being tossed to and fro, with almost all members participating in the heated and prolonged discussion, Prime Minister Manmohan Singh finally had his way and the Cabinet okayed the increase in prices.
However, the more dramatic part of the day came when at the meeting of the Cabinet Committee on Infrastructure, the Congress and the Trinamool Congress (who are allies at the Centre and in West Bengal) had a major face off.
During this disagreement, Finance Minister Pranab Mukherjee gave Mamata Banerjee such a dressing down that she was almost reduced to tears.
Sources say that the situation became so emotive that other ministers had to intervene, with one minister even offering a handkerchief to console the agitated, and normally irrepressible, Mamata.
It is learnt that Pranab Mukherjee lost his cool after Mamata suggested a public-private partnership for a railway project.
He told her that the economies of scale of what she was suggesting were not feasible. He added that she wanted to be a popular and populist minister without increasing freight rates or passenger fares, and at the same time did not want to pay private parties.
However, despite the drama, the Cabinet Committee on Infrastructure finally cleared almost 23 projects, of which 10 are from West Bengal. These will be announced in the Railway Budget to be presented by Mamata Banerjee on February 24.
What do you expect from the forthcoming Budget for 2010-11? Tell us!