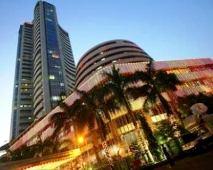 All that begins well ends well, goes the adage. But the markets seem to think otherwise, at least going by the day's proceedings. The benchmark indices did have a flying start, on the back of firm Asian cues.
But while Asia ended where it began, the domestic bourses tired out in the afternoon session. The Sensex shed nearly 200 points from the day's high to close at 16237, higher by 45 points and the Nifty ended at 4856, up 11 points.
The Asian indices had a field day, with the Hang Seng and Nikkei strengthening by nearly 3%, after a smaller-than-estimated increase in US consumer prices eased concerns that the Federal Reserve will increase the interest rates.
Metal stocks gained on a rise in metal prices on the London Metal Exchange over the weekend. Hindalco was the leading gainer on the Sensex; ending higher by 2.6% at Rs 153 and Tata Steel added 1.6% at Rs 572. Index heavyweight, Hindustan Unilever strengthened by 1.6% at Rs 245.
On the losers side, DLF weakened by 2.1% at Rs 285, while Grasim and Reliance Infrastructure shed 1.4% each at Rs 2642 and Rs 988 respectively. Reliance Industries touched a fresh yearly low of Rs 978.
Railway stocks fell two days ahead of the Railway Budget. Titagarh Wagons shed more than 9% to Rs 411, Kalindee Rail Nirman lost nearly 5% at Rs 203 and Container Corporation weakened marginally at Rs 1210.
And the PSU sector ended flat on a day when the President, in her address to Parliament, re-affirmed the government's commitment towards the listing of all profitable public sector enterprises on the bourses
The market breadth turned negative at close. Out of 2907 stocks traded on the BSE, there were 906 advancing stocks as against 1924 declines.