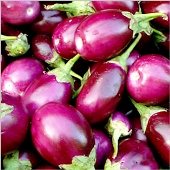 Bt brinjal, over which the government has put a moratorium, would become a reality in a couple of years after those opposed to it are convinced of its positive aspects, a top official of Tamil Nadu Agricultural University said.
"BT Brinjal will become a reality in aCoimbatore couple of years but it will take some time to convince those opposed to it, mainly farmers, of its positive side," Tamil Nadu agricultural university vice chancellor Murugesa Bhoopathi said, noting that it took six years to popularise Bt cotton.
Among those opposing Bt Brinjal, he alleged, was the pesticide lobby for fear of losing business.
The advantages of Bt Brinjal, he said, was that there would be no pest attacks, meaning that farmers could have a 'clean' and clear crop with no residual effect, better market value and consumer acceptance, compared to conventional ones where 70 per cent of it is destroyed by pests and larvae, resulting in farmers losing revenue.
He said many varieties released by TNAU in several crops have been adopted by farmers and said the university has developed four varieties from conventional brinjal after various tests.
However, TNAU would wait for the moratorium to be revoked since it was developed for farmers' benefit 'and not because of the compulsion or under the diktat of MNCs.'
"We have not taken hybrid seed from Monsanto or Mahyco. We have taken the seed of this native crop from farmers and developed in four university Centres," he said.
Bhoopathy endorsed eminent agriculture scientist and economist M S Swaminathan's view about forming a neutral body to carry out tests on animals like rats and rabbits to remove any misgivings.
Asked if a situation may arise where India has to export BT brinjal as some nations have already initiated development and cultivation of the crop, he said brinjal is a native crop and there was good demand for it across India.
However, damage by larvae or overuse of pesticide cannot be rectified, he said.
Tamil Nadu is the one of largest producer and consumer of Brinjal, cultivated in 25000 acres, with 10 to 12 tonnes per acre, in six months.
A senior scientist involved in developing BT brinjal seed said that BT cotton has created a revolution in India, with increased yield and productivity.
"There are hundreds of suicides by farmers on cotton. Is it because of BT cotton seed? No. It is because of spurious seeds supplied in the name of BT," he claimed.
He said TNAU would conduct regular meetings of farmers, environmentalists and scientists to convince and create awareness among them about health aspect of BT brinjal.
People did not know cottonseed oil made from BT cotton was consumed by large population without side effects. "Some are opposing for opposition sake without knowing the truth," he said.
He said there could be a situation where one has to go for import if the ministry does not revoke its decision at the earliest, since neighbouring countries and also Bangladesh and Philippines have already taken steps to increase BT crops production.
© Copyright 2021 PTI. All rights reserved. Republication or redistribution of PTI content, including by framing or similar means, is expressly prohibited without the prior written consent.