The Union rural development ministry is all set to hire NGOs as "Lok Sevaks" in each gram panchayat for better implementation of the Mahatma Gandhi National Rural Employment Guarantee Programme.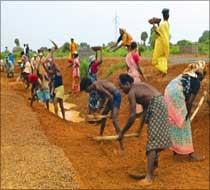 Though the move would ensure work for about 300,000 NGOs in the country, small NGOs would be excluded because of the financial eligibility criteria set by the ministry.
According to the qualification norms spelt out by the ministry, Lok Sevaks should have annual turnover of over Rs 20 lakh (Rs 2 million) in the previous year and should have accounts audited by a chartered accountant.
Said Manoj Rai, director of NGO PRIA, which works on issues related to devolution of power besides the Mahatma Gandhi National Rural Employment Guarantee Act, or MGNREGA: "This would work only if big NGOs subcontract work to smaller ones."
According to sources in the ministry, separate funds may be found to pay the NGOs in the 300,000-odd gram panchayats in the country as the six per cent administrative costs cannot suffice for this.
The Lok Sevak will work with the district programme co-ordinator and will cover not more than four blocks. An NGO to be eligible for selection should have been operating for a minimum of two years.
Lok Sevaks will be selected by a selection committee at the state level under the leadership of the secretary (dealing with MGNREGA), with members including a nominee of the rural development ministry, a representative each from CAPART, NIRD and state government and an NGO.
The MGNREGA would also give birth to a new nationwide army of workers, called Lok Karmis, on the lines of ASHA health workers. A Lok Karmi, who would be from the same gram panchayat, would be paid an honorarium equivalent to agricultural wages on a monthly basis.
According to the ministry, the honorarium shall be paid out of the administrative costs provided under the flagship programme. The person should be at least Class 12 pass, and where such a person is not available, he should have completed at least eighth standard.
The Lok Karmis would help workers in applying for work under the programme and to claim compensation when denied work.