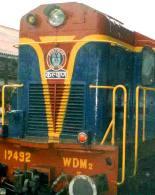 The Indian Railways will be the lead partner for the Commonwealth Games.
The Minister of Railways, Mamata Banerjee proposes to set up five sports academies at Delhi, Secunderabad, Chennai, Kolkata and Mumbai.
Presenting the Railway Budget for 2010-11 in Parliament on Wednesday, the Minister also proposed to provide astro-turfs for the development of hockey at more places.
The Railway Budget also provides for increased employment opportunities to sportspersons.
The Minister said that to mark the Commonwealth Games 2010 to be held in New Delhi, the Railways proposes to run a Commonwealth Exhibition Train to spread the message.
(PIB)