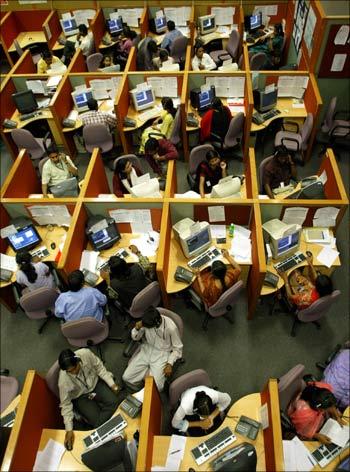 Majority of privately held businesses in India are optimistic about their hiring plans this year, but prospects of staff benefits like pay hikes are not so bullish, a study said.
After a harsh 2009 for job seekers, 2010 is promising a much more buoyant employment outlook, global consultancy firm Grant Thornton said. But it added that "employees would be wrong to think the worst is over".
According to the Grant Thornton International Business Report 2010 on Employment, intentions regarding salaries are now less positive than in 2009 with more businesses expecting pay freezes and less expecting a pay rise.
However, businesses in 29 of the 36 economies surveyed expect to increase staff numbers in 2010, suggesting that more jobs will be available in 2010, the report said.
As many as 33 per cent of Indian PHBs are optimistic about the employment outlook, compared to 19 per cent in the Asia Pacific region. North America is at the bottom of the ladder with a balance of (-30 per cent), followed by the Nordic countries (-27 per cent) and the EU (-19  per cent).
Commenting on the results Grant Thornton India Partner Vinamra Shastri said, "While job losses, were an unfortunate and significant reality in most of the world; India managed to fare far better than its global peers while reducing headcount."
When asked about their intentions for employee salaries in the year ahead, 49 per cent PHBs said that they will increase their employee salaries in line with inflation, while about 29 per cent said that they will not offer pay rises this year. However, an encouraging 12 per cent said that they will hike employee pays by more than inflation.
"These numbers reflect improving business environment in India. However, it will be worthwhile to use this as an opportunity to consolidate more and avoid the trap of over optimism," Grant Thornton India client service director Rajul Mathur said.
The global employment index shows businesses in some of the world's more mature economies are suffering the greatest decreases in employee numbers than the emerging economies.
For instance Ireland has a balance of (-54 per cent), Spain, Denmark (-38  per cent each) and the US (-33 per cent) while emerging markets enjoyed some of the biggest increases in headcount in 2009, including Vietnam (+54 per cent), India (+33 per cent), Botswana (+31 per cent) and the Philippines (+29 per cent).
In a bid to tackle, the global economic downturn, companies worldwide adopted measures like -- reducing working hours (11 per cent) and redeployment of staff (10 per cent) -- to avoid compulsory redundancies of permanent staff in 2009, Grant Thornton said.
<IFRAME src="http://pages.rediff.com/promote/Budget-2010/10567?bg=ffffff&amp;orientation=badgepreviewH" frameBorder=0 width=222 scrolling=no height=82></IFRAME>