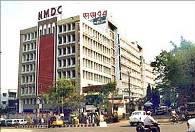 Public sector companies did not allow themselves to be bogged down by the global slowdown and kept increasing their investments in 2008-09, the Economic Survey said on Thursday.
The cumulative investment by the Central Public Sector Enterprises (CPSEs) increased by an impressive 16.2 per cent for the fiscal ended 2008-09 from a year ago.
The Survey noted that "a great deal of investment in CPSEs is being made through internal resources rather than through investment from outside."
There are altogether 246 CPSEs under the administrative control of different ministries. Of them, 158 earned net profit in 2008-09 and 54 were in losses. On a cumulative level, the state-owned companies increased their business turnover by 15.4 per cent and improved their net worth by 12.6 per cent.
The Survey said the government has been delegating enhanced financial and operational freedom to the Navratna, miniratna and other profit-making CPSEs. In all, there are 18 Navratna enterprises and 62 miniratnas.