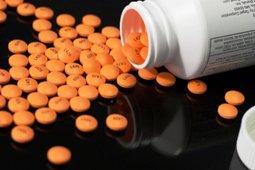 The Indian Pharmaceutical industry has become the third largest in world in terms of volume and ranks 14th in terms of value at over Rs 1 lakh crore (Rs 1 trillion), the Economic Survey tabled in Parliament on Thursday said.
"The Indian pharmaceutical industry has grown from a humble Rs 1,500-crore (Rs 15-billion) turnover in 1980 to approximately Rs 1,00,611 crore (Rs 1006.11 billion) in 2009-10," the pre-Budget survey said.
The growth of the Indian pharmaceutical industry has been fuelled by exports, which increased 25 per cent in 2008-09. "Exports of pharmaceuticals have consistently outstripped imports," the Survey said.
India exports drug, intermediaries, active pharmaceutical ingredients, finished dosage formulations, bio-pharmaceuticals and clinical services. The top five destinations for such exports are USA, Germany, Russia, UK and China.