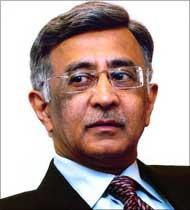 Baba Kalyani, CMD, Bharat Forge says the government is committed to economic reforms. This year's Budget has come at a time when the economy had just begun to recover from the impact of an unprecedented global economic crisis.
The Finance Minister's challenge was to support the resurgent momentum of growth in the economy, create conditions to scale up growth to 9 per cent levels that we had experienced between 2005-2008 and balance growth with equity to make it more inclusive.
He had to do this without compromising on fiscal prudence and at the same time address the challenge of keeping inflation in control. Mukherjee's task was therefore clearly cut out and in the circumstances he appears to have responded by striking a fine balance between various imperatives.
The government is committed to continuing economic reform is clearly visible in this Budget. Some of the notable features include announcement of a firm date for implementing the Direct Tax Code, intention to introduce GST in the same time frame, the Rs 25,000 crore (Rs 250 billion) divestment target for this year, increased allocations for agriculture, defence, infrastructure with emphasis on roads, power and solar energy, education, skill development etc.
The other positives include rationalization of personal income tax slabs, the added impetus for savings and the increased incentive for research and development activities.
The phased withdrawal of the stimulus was always on the cards. Therefore the increase in excise duty from 8 per cent to 10 per cent has not come as a surprise. The decision to leave the rates of customs duty and service tax unchanged is welcome particularly in view of the anticipated introduction of GST next year.
Reduction of surcharge would result in a lower rate of corporate tax but this would to an extent be offset by the unexpected 3 per cent increase in MAT. The increase in price of petroleum products however, is quite significant and would lead to higher inflation.
Taking all the positives and negatives into account, we still believe that this is a visionary Budget. A road map to progressively bring down the fiscal deficit from 6.9 per cent this year to 4.1 per cent by 2012-13 clearly indicates the government's commitment to fiscal discipline.
What perhaps has not been stated is the intent to achieve the Finance Commission's recommendation for a zero fiscal deficit by 2014-15 but it is clear that the government is moving in that direction.
Through this Budget the Finance Minister has squarely addressed the three challenges before the economy, which he stated upfront in his speech - to bring back 9 per cent growth and set a challenge target of double digit growth, to make growth more inclusive and to strengthen the structures of governance by improving delivery mechanisms.