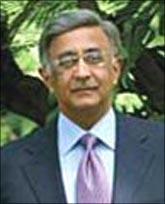 Auto component-maker Bharat Forge Ltd on Monday said it will invest around Rs 1,500 crore (Rs 15 billion) over the next three years to focus on its non-automotive business of making components and heavy forgings for energy, marine, defence, aerospace and locomotive sectors.
"We will invest around Rs 1,500 crore in the second phase to expand our non-automotive business and set up some production facilities that will manufacture heavy forgings, crankshaft and rotors that will be needed in nuclear plants," Bharat Forge's chairman and managing director Baba N Kalyani said.
The BSE-listed company on Monday completed the first phase of its foray into the non-automotive sector by commissioning a fully integrated ring rolling facility.
The new facility can make rings up to a maximum diameter of 4.5 metres, maximum height of up to 500 mm and maximum weight of up to 3 tonne.
These rings will primarily cater to sectors such as wind energy, defense, oil & gas, mining, material handling equipment and bearing industry.
"The commercialisation of the ring rolling facility successfully completes the first phase of our non-auto foray, which we conceptualised in 2005. This will enable us to achieve our target of having 40 per cent of our revenue from the non auto sector by 2012 from current levels of 21 per cent," Kalyani said.
Bharat Forge, the flagship company of $2.4 billion Kalyani Group, has invested Rs 500 crore (Rs 5 billion) in the first phase, which commenced in 2005.
The heavy engineering firm will set up two more units in Baramati with an investment of around Rs 60-75 crore (Rs 650-700 million).
The first unit, which will manufacture 5 metre-long cranshaft for the locomotive market, will be commissioned by June. The second unit, to make 12 metre-long crankshaft for the marine industry, would be commissioned end-2010.
Kalyani said the funding will be through a mix of debt and equity in the ratio of 40:60. Bharat Forge is also planning to make equipment weighing up to 500 tonne in the second phase. At the moment, it manufactures equipment of only up to 50 tonne.
The company has forayed into non-automotive sectors addressing three major verticals like energy, transportation and capital goods (metals, mining, construction and general engineering).
It operates a 4,000-tonne open die press at Mundhwa, near Pune and Centre for Advanced Manufacturing in Baramati that has 180 metric tonne counter-blow hammer unit.
Mundhwa is the single largest commercial forging facility in India, with an installed capacity of 60,000 tonne per annum (TPA), while the Baramati facility has a capacity of 40,000 TPA.