Toyota unveiled on Tuesday concept small car -- Etios -- which has been specifically developed for the Indian market.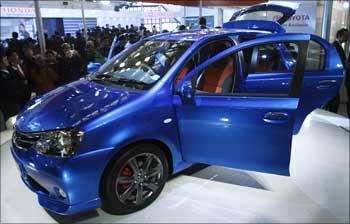 The company, which is present in India through a joint venture with Kirloskar Group, is investing about Rs 3,200 crore (Rs 32 billion) to set up its second manufacturing facility in Bangalore to roll out the car by early 2011.
"We are very excited to finally showcase the concept of Etios, which has been newly developed specifically for customers in India . . . Our tagline represents the choice of India for the global premiere of Etios concept, following which, export to other countries will be evaluated," Toyota Motor Corp vice chairman Kazuo Okamoto told reporters at the 10th Auto Expo in New Delhi.
India will play a pivotal role in Toyota's global expansion plans and the company will strategically accelerate its growth in the country, he added.
"After the slowdown, we are now in a difficult situation and we are trying to achieve constant recovery. The Indian market is very important and big for Toyota and it is expected to grow up to four million units by 2015," Okamoto said.
The company would launch both hatchback and sedan under the Etios series with 1.2 litres and 1.5 litres petrol engines respectively.
"With the introduction of Etios, we will enter the mass volume segment. We are looking at a sales of 70,000 units in the first year so that our customers can get access to world-class quality standards of Toyota," Toyota Kirloskar Motor managing director Hiroshi Nakagawa said.
TKM targets about 10 per cent share of the Indian passenger car segment by 2015. The car market is pegged at over 12 lakh (1.2 million) units, he added.
The company has been developing the model for the last four years with the help of over 2,000 engineers from its Indian and Japanese operations.
"The preparation for launching the small car is on track. The plan conception, supply to our base and dealer network expansion is going on," Nakagawa said.
The production of the small car would start by December this year and would be launched by early 2011, he said, but declined to give details whether the first one would be a hatchback or a sedan. The company plans to expand dealership to 150 by the end of 2010 from its existing 97 outlets.
Besides Etios, the company has also showcased its hybrid Prius at the Expo, which will be launched in the country by March this year, TKM deputy managing director (marketing) Sandeep Singh said.
TKM also launched the CNG version of its luxury sedan Corolla Altis.
The company reported over seven per cent growth in its sales in the country last year at 55,497 units and is expecting a jump of 15-20 per cent in 2010, Singh said.
Image: Onlookers stand next to Toyota's compact car 'Etios' at 10th Auto Expo in New Delhi.
Photograph: Vijay Mathur/Reuters