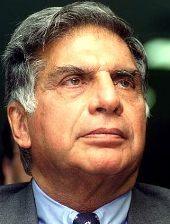 Tata Group chairman Ratan Tata said on Tuesday the stimulus packages provided to the economy to cushion the impact of the global economic downturn should not be withdrawn.
"Obviously, I have great self interest in saying it should not be (withdrawn) because buoyancy in the market, which is somewhat a barometer also of the economy, has been stimulated greatly with the incentives that have been given," Ratan Tata said at the Auto Expo in New Delhi.
He was responding to a query on whether the government should withdraw the stimulus packages in the backdrop of economic recovery. "Certainly, I would not be a party to say it (the stimulus packages) should be withdrawn," Tata added.
Earlier, finance minister Pranab Mukherjee had said the fiscal stimulus given to the industry to combat the adverse impact of the global financial meltdown would not be withdrawn before the budget next year.
On Monday, Planning Commission deputy chairman Montek Singh Ahluwalia had said India would not stand out in the world as an over spender despite the increase in fiscal deficit because of the sops.
With the economy recording a growth rate of 7.9 per cent in the second quarter (July-September), there are apprehensions that the government may start withdrawing the stimulus, especially to contain fiscal deficit, which is targeted to rise to 6.8 per cent of the gross domestic product by the end of the 2009-10 fiscal.
Image: Ratan Tata