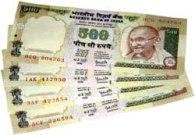 The Finance Ministry on Wednesday hinted that stimulus packages given to the industry may be rolled back, saying too much stimulus could be injurious when the economy is on a revival mode.
"Too much of stimulus, when the body is getting healthy, is not good, it can be injurious to health," Finance Secretary Ashok Chawla said.
The Finance Secretary's statement assumes importance since the industry had yesterday asked for continuation of stimulus packages for at least six months from the beginning of next fiscal.
The industry emphasised on this point at pre-budget interactions with Finance Minister Pranab Mukherjee.
"The focus of the discussion was the continuation of the fiscal stimulus measures unless the tipping point is visible...," Ficci secretary-general Amit Mitra had said.
The government has cut excise duty by 6 per cent, service tax by 2 per cent and stepped up plan expenditure to prop up the economy, which was hit by the global financial crisis.
This has resulted in economic revival with growth in the second quarter of this fiscal standing at 7.9 per cent, against 6.1 per cent in the first quarter and 5.8 per cent each in the preceding two quarters.
However, industry wants stimulus to continue till economy is on firm recovery.