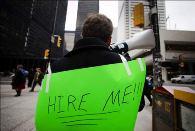 The unemployment rate in the  OECD region a grouping of 27 developed and developing nations stood at 8.8 per cent in November 2009, amid the global labour market slowly witnessing signs of stabilisation.
In October 2009 too, the jobless rate was at 8.8 per cent, the Organisation for Economic Cooperation and Development (OECD) said in a statement on Monday.
The grouping includes the US, Germany, France, Japan and Switzerland, among others. In the wake of the global financial crisis, companies worldwide resorted to massive layoffs as part of their cost cutting efforts.
"The unemployment rate for the OECD area was 8.8 per cent in November 2009, the same as the previous month...," it noted.
In the Euro area a grouping of 16 nations that share the currency euro the jobless rate touched 10 per cent in November 2009, the highest in 12 years.
According to the OECD, the unemployment rate for France and Germany touched 10 per cent and 7.6 per cent, respectively in November last year.
Meanwhile, the jobless rate for the world's largest economy remained at 10 per cent in December, same as the previous month.
In recent times, the rate of job cuts has declined mainly on account of improving economic conditions worldwide.