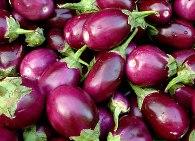 Environment Minsiter Jairam Ramesh will from Wednesday hold a series of public meetings across the country on the controversial Bt brinjal which was cleared by the country's bio-technology regulator last year for its commercial cultivation.
Besides the first meeting on Wednesday in Kolkata, the next will be held in Bhubaneshwar on January 16, in Ahmedabad on January 19, Hyderabad (January 22), Bangalore (January 23), Nagpur (January 27) and in Chandigarh on January 30, a senior Environment Ministry official said.
The meetings will be attended by various stakeholders including scientists, agriculture experts, farmers organisations, consumer groups and NGOs who have been opposing the genetically modified brinjal.
Genetically modified food is that which undergoes genetic modification by gene transfer making it pest-resistant. The meetings are being held in view of a controversy over the decision of Genetic Engineering Approval Committee
(GEAC) allowing commercial cultivation of Bt brinjal.
Ramesh had after the controversy decided to hold the meetings on the issue. It is being promoted by Mahyco Monsanto biotech, joint venture between Hyderabad based Mahyco and US-based Monsanto, along with University of Agriculture Sciences, Dharawad, and Tamil Nadu Agriculture University, Coimbatore.