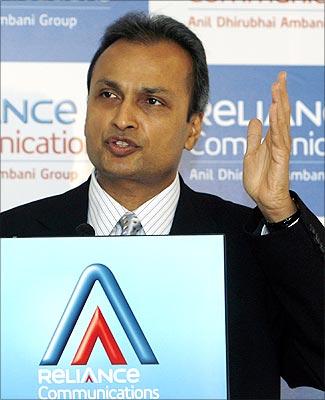 Anil Ambani Group's DTH arm Reliance BIG TV is believed to be in discussion with content providers like Max Broadcasting, Warner Home Entertainment Group and CNN to acquire non-film content for its pay per view platform.
Company sources said Reliance BIG TV is in discussions with Max Broadcasting, Warner Brother Home Video, Warner Home Entertainment Group, Comedy Central and CNN to sign non-film content acquisition deals, which are expected to close by March this year.
The deals are expected to offer PPV revenue upside of nearly Rs 500 crore (Rs 5 billion) over the next four years and a 10 per cent revenue market share in the DTH VAS category.
While agreement with Max Broadcasting would provide access to sports video content, a deal with Warner Brother Home Video and Warner Home Entertainment Group will enable BIG TV showcase exclusive music events.
When contacted, a company spokesperson declined to comment.
Comedy Central, which currently owns syndication rights to comedy shows from across the globe, will help BIG TV add the genre to its PPV platform and a deal with CNN/Fox and ABC Networks will provide the company real-time access to current affairs programmes and political news from the United States, Europe and Asian regions.
A deal with CNN/Fox can provide access to popular chat shows. The content is expected to be showcased from April onwards and will be spread over 16 months. Reliance BIG TV is planning to invest nearly Rs 350 crore (Rs 3.50 billion) over next four years for acquisition across film and non-film based content.
As part of its overall content strategy, Reliance BIG TV plans to introduce 10 different varieties of non-film content, including sports, music, current affairs/documentaries, adventure, comedy, chat shows, cooking, religion and technology-based content on its PPV platform, sources said.
The company earlier introduced music-based content like Michael Jackson's tour. PPV viewership for its non-film showcases recorded 150 per cent growth over its current average for film-based PPV content, even though they were priced at a premium of 50 per cent compared to regular showcases.
The market size of the Indian DTH sector is expected to grow to about $1.28 billion by 2012 from the current $350 million, driven by PPV revenues.
By 2012, PPV revenues are expected to contribute nearly 15 per cent of overall DTH revenues from 4 per cent at present.
© Copyright 2023 PTI. All rights reserved. Republication or redistribution of PTI content, including by framing or similar means, is expressly prohibited without the prior written consent.