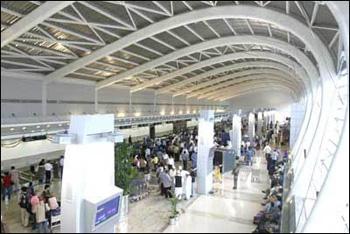 Tenders for the proposed Navi Mumbai airport are likely to be floated in the next six month and the project is 'very much on track', Civil Aviation Minister Praful Patel said on Monday.
"The airport project is very much on track. The tendering process will be initiated over the next six months and I hope it to be completed by the end of this year," Patel told reporters at a function in Lavasa.
"The airport is already delayed by three years. We expect the first phase to be operational by 2013," he said.
The City and Industrial Development Corporation of Maharashtra, the project implementation agency, has already acquired 75 per cent of the land for the airport, Patel said, adding, "we are awaiting the final clearance from the ministry of environment and forest."
The minister said there were certain ecological issues relating to the airport project but "these are not coming in the way of building the new airport."
The new Coastal Regulatory Zone (CRZ) notification, issued by the government recently, allows greenfield projects to come up in these zones. The Minister said he was likely to hold a meeting on the issue with Maharashtra government next week.
On the issue of private operators' proposal to the civil aviation ministry seeking its approval to hike development fees at some major airports, he said the issue now rests with the airport regulator, Airports Economic Regulatory Authority.