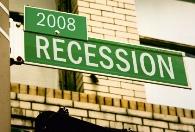 Thirty-five is fast becoming the new 40 as worries about the economy and healthcare are pushing American people into middle age earlier, a new study claimed.
While 40 was once widely considered the milestone that defined middle age, this has been lowered to 35, according to the research by the Philips Center for Health and Well-Being.
"Thirty five is the new 40 as Americans feel the pressures of middle age earlier than ever," the Amsterdam-based centre said in a statement.
Katy Hartley, the director of the centre, which aims to improve quality of life, said stress about the economy and healthcare that you would typically associate with turning 40 is starting at a younger age.
"The data suggests the new age for middle age is 35," she said. Nearly 80 per cent of 35 year olds questioned for the study said they were concerned about the economy and three-quarters were also worried about healthcare.
These stresses, according to the study, have contributed to an apparent early onset of middle age and the loss of five years of youth, The Telegraph said.
The report showed the economy topped the list of stressors for most of the participants at 74 per cent, which was nearly double the results of a 2004 survey. A nearly equal amount said they felt positive about their overall health and well-being.