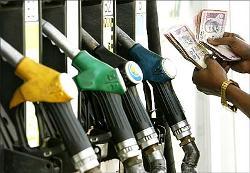 Petrol prices may go up by Rs 3 a litre if Prime Minister Manmohan Singh at a meeting on Wednesday accepts the petroleum ministry's proposal to free pricing of petrol while gradually increasing the diesel rates.
The prime minister is scheduled to review the financial health of oil PSUs at a meeting with finance minister Pranab Mukherjee and petroleum minister Murli Deora on Wednesday evening.
"Petroleum ministry is likely to propose deregulation of petrol prices and gradual phasing out of subsidies on diesel to ease burden on public sector oil marketing companies," a source said.
The government has not allowed Indian Oil Corporation, Bharat Petroleum and Hindustan Petroleum to raise rates of petrol, diesel, domestic liquid petroleum gas and kerosene despite the cost of raw material (crude oil) jumping to $82 per barrel.
The three firms are projected to lose Rs 44,300 crore (Rs 443 billion) in revenues on fuel sale this fiscal.
The three firms sell petrol at a loss of Rs 3.06 a litre, diesel at Rs 1.56 per litre, kerosene at a loss of Rs 17.23 per litre and LPG at a discount of Rs 299.01 a cylinder.
The source said the ministry may propose auto fuel deregulation in the light of finance ministry's failure to keep its promise of compensating the three firms for their losses on LPG and kerosene through issue of bonds.
"This way they (oil companies) may be able to minimise loss.
The government may then meet Rs 15,000-20,000 crore of losses either from Budget or through oil bonds and the rest can be borne by upstream firms like ONGC," the source said. IOC, BPCL and HPCL are projected to lose about Rs 30,000 crore (Rs 300 billion) on LPG and kerosene this fiscal.
Planning Commission deputy chairman Montek Singh Ahluwalia and a former Planning Commission member Kirit S Parikh, who heads an expert committee on fuel pricing, may join tomorrow's deliberations.
Officially the meeting has been called to take stock of the petroleum sector, especially the financial position of PSU oil retailers, the source said.
The government had failed to provide the promised oil bonds to make up for the revenue loss on LPG and kerosene, in the absence of which HPCL and BPCL reported losses in the second quarter while IOC barely scrapped through.
Besides the three, private fuel retailers Reliance Industries, Essar Oil and Shell have also sought freeing of petrol and diesel prices for a level-playing field.
Sources said the meeting may also discuss the current mechanism to share revenue losses incurred by the state-owned oil retailers with upstream companies like ONGC and the government.
Besides reviewing both upstream and downstream sectors, the meeting is likely to hold preliminary discussions on the findings of the Parikh committee, he said.