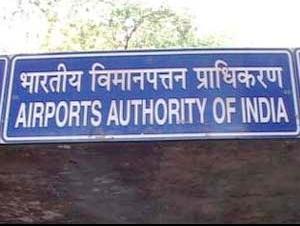 The Airports Authority of India will borrow Rs 600 crore (Rs 6 billion) from the country's largest public-sector lender, State Bank of India.
The loan will be at an interest rate of 7.5 per cent and for a period of three years.
"We have negotiated with SBI for Rs 600 crore (Rs 6 billion) and Rs 300 crore (Rs 3 billion) will come immediately and the rest will come by March-end," said a senior AAI official.
"The money will be used to upgrade the facilities at airports across the country," said the official.
AAI manages 92 airports, and 28 civil enclaves at defence airports. It is currently modernising 35 non-metro airports, besides those in Chennai and Kolkata, which involves an investment of over Rs 12,000 crore (Rs 120 billion).
A review found AAI faced a revenue deficit of about Rs 5,000 crore (Rs 50 billion) for its project. It did not receive permission from the finance ministry to raise Rs 5,000 crore through tax-free bonds, forcing other options.
The National Highways Authority of India and the Rural Electrification Corporation are two government entities allowed to raise money through tax-free bonds.
AAI had also asked for permission to charge user development fee at eight airports; it has started charging UDF at Jaipur airport from January 1. In 2008-09, it earned a profit of Rs 687.21 crore (Rs 6.87 billion) on revenue of Rs 4,185.95 crore (Rs 41.85 billion) during the same period.