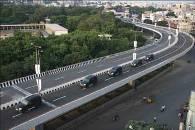 The construction of the proposed network of 18,637 km of expressways in the country would cost more than $100 billion, according to a senior transport ministry official.
"The construction of expressways would cost $100 billion at that time (time of construction)," transport secretary Brahm Dutt said.
The government is expected to start construction of the proposed expressway network in the next few years.
Speaking at a seminar organised by industry chamber Confederation of Indian Industry (CII), he said the projects for these stretches would be given on build-operate-transfer (BOT) basis to private companies.
The government had earlier proposed a nationwide network of expressways that will be hindrance-free and access- controlled stretches of roads.
The final master plan submitted for the purpose by the official consultant envisages construction of 18,637 km of expressways at a cost of Rs 18 crore (Rs 180 million) per km for a four-lane project and Rs 25.5 crore (Rs 255 million) per km for a six-lane project.