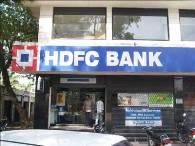 Supported by a strong growth in its fee-based revenue and net interest incomes, private sector lender, HDFC Bank has clocked a 31 per cent jump in its net profit in the third quarter.
Fee-based income grew by 12.4 per cent to Rs 723.7 crore (Rs 7.23 billion) in Q3 FY 10 as compared to the year-ago period and emerged as a major contributor to the overall growth along with the net interest income, Paresh Sukthankar, executive director, HDFC Bank said.
The net interest income (NII), during the quarter, went up by 12.4 per cent to Rs 2,223.9 crore, (Rs 22.23 billion) driven by asset growth. The net interest margin of the lender improved to 4.3 per cent in Q3 as against 4.2 per cent in the year-ago period, Sukthankar said.
Sukthankar said the bank was hopeful to maintain the NIM, the spread between interest earned and interest expended, between 4 per cent-4.3 per cent in FY10.
However, an expected hike in the RBI Cash Reserve Ratio in the near future and the apex bank's directive to calculate savings deposit rates on a daily basis by April might put pressure on banks' margins moving ahead, he said.
The lender also saw its non-performing assets declining slightly in the third quarter, enabling it to lower the NPA provisioning in Q3, he said.
The bank provided Rs 437.9 crore (Rs 4.37 billion) for bad loans in Q3 as against Rs 465.4 crore in the year-ago period. "As far as NPAs are concerned, all I can say that it does appear that the worst is behind us. NPA formation seems to have slowed down," Sukhthankar said.
Gross non-performing assets as of December declined to 1.6 per cent of gross advances as against 1.9 per cent a year-ago. HDFC Bank's gross advances expanded by 21 per cent in Q3 FY10 to Rs 1,21,051 crore (Rs 1210.51 billion) compared to a year-back, while growth in the retail advances was at around 11 per cent.
However, the bank suffered a loss of Rs 26.5 crore (Rs 265 million) in its treausry portfolio as against a profit of Rs 232.1 crore in the same quarter last year. Going by the current indications, HDFC Bank expects to grow its loan book 3-5 per cent above the industry in FY10, Sukthankar said, adding, it hopes to maintain a healthy growth both in its auto and home loan portfolios.
Deposits of the bank, during the period, grew to Rs 1,54,789 crore (Rs 1547.89 billion), while the proportion of current, savings account deposits (CASA) went upto 49 per cent as against 40 per cent last year, he said.
During the quarter, the bank posted net revenues of Rs 3,076.9 crore (Rs 30.76 billion) as against Rs 2,918.6 crore (Rs 29.18 billion) for the corresponding quarter in the previous year. The NPA coverage ratio, as on December, stood at 72 per cent.
The bank opened 219 branches during the quarter taking the total branch strength to 1,725 branches. Its total balance sheet touched Rs 2,04,553 crore (Rs 2045.53 billion) as on December. It has a capital adequacy ratio of 18.3 per cent.