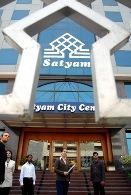 The Central Bureau of India on Monday opposed the bail plea of Price Waterhouse auditor Srinivas Talluri who was arrested in Satyam fraud case for allegedly conniving with its founder B Ramalinga Raju and other aides.
Additional Solicitor General Harin Raval told a Bench headed by Chief Justice K G Balakrishnan that Talluri was part of the conspiracy in the entire fraud.
He said reports received in response to Letters Rogatory from abroad showed there is sufficient evidence against him. Raval said that during the investigation, it was found that Talluri was partner in some other company.
He has also not cooperated in the investigation, he added. The Bench issued a notice to CBI and posted the matter for hearing after two weeks.
The Andhra Pradesh High Court had rejected the bail pleas of Talluri and another Price Waterhouse auditors S Gopalakrishnan accused in the Rs 7,136 crore (Rs 71.36 billion) accounting fraud at Satyam Computer Services Ltd.
Talluri, while denying any criminal wrongdoing, has said his role was minimal and charged CBI with adopting an unprofessional approach by linking all the accused.
The auditors were arrested on January 24 last year on the charge of conspiring in the fraud and are in judicial custody at Chanchalguda central jail in the state.
The CBI has already filed a chargesheet against B Ramalinga Raju, the founder of Satyam, and eight others including the two auditors.