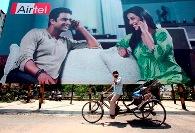 The Bharti group, which has just acquired a majority stake in the Bangladeshi mobile operator Warid Telecom, is on the lookout to acquire government-owned telcos in developing markets like Africa which are up for divestment.
"If the government in any other developing country like Africa, Bangladesh etc are looking for disinvestment in PSU telcos then it can be looked at. But it would only be in mobile services and not in fixed lines," Bharti Enterprises managing director Rajan Bharti Mittal said.
Reflecting on the failure of his company's talks with South African telco MTN twice, he said, "you always have a look out. MTN (which also holds Nigeria) did not happen. But if given an opportunity, we will look at it."
Mittal, however, ruled out any fresh talks with MTN saying, "that chapter is closed. But we are always going to look at new opportunities. "As you are aware, we have just done the Bangladesh deal. We want to go into a continent and this is a continent that attracts us."
Bharti last week signed a pact to acquire 70 per cent stake in Bangladesh's fourth largest telco Warid Telecom from the Dhabi Group for $300 million.
Bharti's first foray outside the country was Sri Lanka where it entered last January. Bharti Airtel chief executive Manoj Kohli had already said that his company's only strategy is to focus on emerging markets and not any big or small buys.