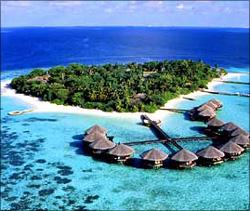 Dismissing the notion that Mauritius is a tax haven, the island nation's Vice Prime Minister Ramakrishna Sithanen on Tuesday said he has not received any complaints from India about routing investments via his country to evade taxes.
However, Sithanen, who is also the finance and economic development minister, promised to cooperate with Indian authorities to check tax evasion in case of complaints, but added his country would not welcome 'fishing expeditions'.
"Mauritius is not a tax haven. We have not received a single complaint of round tripping from competent authorities (in India)," he said while talking to reporters on the sidelines of an investors conference.
Round-tripping is usually referred to routing of domestic investments through Mauritius to take advantage of the Double Tax Avoidance Agreement (DTAA) to pay lower taxes on profits.
India has reportedly found many cases of misuse of the Double Taxation Avoidance Treaty with Mauritius and is working on revising the treaty with the country to prevent its abuse by companies, domestic or foreign.
In April-October 2009-10, India received about $18 billion in FDI and nearly half of it -- around $8 billion -- came from Mauritius.
The Indian government has said earlier that amendments to the Indo-Mauritius tax treaty is being pursued to prevent its misuse and have more exchange of information, including bank details.
Mauritius' finance minister assured the country has always provided information whenever there was a request from India.
"We continue to strengthen the effectiveness of our exchange of information mechanism . . . plus we take sanction if we have evidence that there has been abuse," Sithanen said.
He further said if any company is found routing its investments via Mauritius to evade taxes, its permit would be revoked.
". . . if there is any allegation of round tripping and this is found to be true, that company would be in breach of the conditions of the permit and it would be revoked," he added.
The two countries have set up a joint working group to address their tax-related concerns.
Sithanen is in India mainly to promote investment into Mauritius and has met Finance Minister Pranab Mukherjee in this regard.