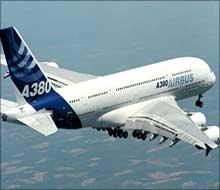 Travellers flying in and out of New Delhi's Indira Gandhi International Airport can expect more congestion for six months starting March, when one of the three runways (runway 28) shuts down to upgrade for Airbus A380 and Boeing 787 Dreamliner.
The runways are expected to be made operational for the larger aircraft before the Commonwealth Games in October.
The bad news comes close on the heels of a tough winter season, which have already caused delays and cancellations due to fog, and over three hours of complete shutdown due to collapse of air traffic control radar system recently. 
PLAN
Upgrade a second runway — Runway 28
to handle Airbus A380 & Boeing 787 Dreamliner
FALLOUT
20% reduction in capacity to handle traffic 
as two aircraft cannot takeoff or land simultaneously 
TIME
March to September 2010
Indira Gandhi International Airport (IGI), New Delhi, has 3 operational runways
The closure of the runway would reduce the capacity of the airport by 20 per cent. It currently handles 60 flights an hour at peak time (6-10 am and 6-10pm) and has the capacity to scale up to 75 flights.
Delhi International Airport Ltd, a consortium led by Bangalore-headquartered infrastructure company GMR Group manages the airport.
The problem would be such that closing runway 28, out of the three - 27, 28 and 29 - functioning would mean that two aircraft cannot land and take off simultaneously from runways 27 and 29 as they are not parallel to each other.
 
IGI HANDLES 60 FLIGHTS EVERY HOUR
Capacity: 75 flights every hour
Peak time: 6 am to 10 am; 6 pm to 10 pm
AIRLINES WITH A380 FLEET OPERATING IN INDIA
* Lufthansa
* Emirates
* Singapore Airlines
* Qantas (Mumbai only)
* Air France
"Runway 28 will be upgraded to operate A380s and will remain closed for six months from March. Though runway 29 can handle A380s, it has night curfew imposed on it. So the need was felt to make another runway A380 compatible," said a senior ministry official.
Night curfew means there can be no landing on the runway from 10 pm to 6 am. Only departures are allowed. This was done after residential areas around the airport went to court objecting to landings during night leading to sound pollution. The court directed the airport to impose a night curfew. Landing is allowed only in case of emergency.
"With the closure of one runway, the capacity of the airport will come down by 20 per cent. Runways 27 and 29, which will be operational after runway 28 is closed, are not parallel runways and no two aircraft can land or take off at the same time. This may lead to a major congestion," said a source.
"The air traffic controller can take a call on the same and allow landing and takeoff simultaneously if there is too much pressure," he added.
Lufthansa, which has two flights a day from Delhi, has announced plans to fly A380s to the city. The other airlines with A380s in their fleet and fly to India are Emirates, Singapore Airlines, Qantas and Air France. None of them has given a deadline when they would start operations. Among the rest, Emirates and Singapore operate three flights to Delhi every day. Qantas flies to only Mumbai.