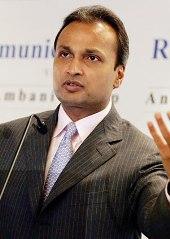 Anil Dhirubhai Ambani Group chairman Anil Ambani met Malaysian Prime Minister Najib Tun Abdul Razak on Wednesday and is believed to have discussed the possibility of investing in infrastructure and media sectors in the South East Asian Nation.
Sources said that the Malaysian prime minister invited Ambani to invest in sectors like power, media and financial businesses.
The Malaysian government had earlier given permission to Ambani-promoted Reliance Capital Asset Management Company to operate in Malaysia.
The ADAG also has other business interests, including 17 multiplexes with 72 screens, in Malaysia. Razak, on a five-day state visit in India, also met leaders of the business chambers.
Image: Anil Ambani