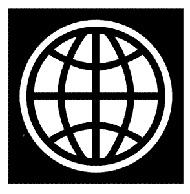 The World Bank on Thursday projected that the global economy is likely to grow at a rate of 2.7 per cent in 2010, but warned that the economic recovery is still fragile. It also added that the process of recovery would gradually slow down later this year as the impact of fiscal stimulus wears away.
In its report 'Global Economic Prospects 2010' the World Bank has said: 'Global GDP, which declined by 2.2 per cent in 2009, is expected to grow 2.7 per cent this year and 3.2 per cent in 2011'.
However, it warned that while the worst of the financial crisis may be over, the global recovery is still fragile and that the recovery that is now underway will slow down later this year as the impact of fiscal stimulus wanes.
On Wednesday, International Monetary Fund chief Dominique Strauss-Khan had said the global economy is recovering more strongly than expected and projected that growth rate in 2010 is likely to beat the forecast of 3 per cent.
The World Bank also said that the financial markets remain troubled and private sector demand lags amid high unemployment.
The World Bank also predicted that the fallout from the crisis will change the landscape for finance and growth over the next 10 years.
Projecting a good outlook for the developing countries, the report said that these nations are heading towards a relatively robust recovery, growing at 5.2 per cent this year and 5.8 per cent in 2011 -- up from 1.2 per cent in 2009.
However, GDP in rich countries, which declined by 3.3 per cent in 2009, is expected to increase much less quickly -- by 1.8 and 2.3 per cent in 2010 and 2011, it said.
World trade volumes, which fell by a staggering 14.4 per cent in 2009, are projected to expand by 4.3 and 6.2 per cent this year and in 2011, the report said.
"While this is the most likely scenario, considerable uncertainty continues to cloud the outlook. Depending on consumer and business confidence in the next few quarters and the timing of fiscal and monetary stimulus withdrawal, growth in 2011 could be as low as 2.5 per cent and as high as 3.4 per cent," the World Bank said.
"Unfortunately, we cannot expect an overnight recovery from this deep and painful crisis, because it will take many years for economies and jobs to be rebuilt. The toll on the poor will be very real," said World Bank chief economist and senior vice president, development economics, Justin Lin.
He added that the poorest nations, which rely on grants or subsidized lending, may need an additional $35-50 billion in funding just to sustain pre-crisis social programmes.
According to the report, oil prices are expected to stay broadly stable, averaging about $76 a barrel; and other commodity prices should rise by only 3 per cent per year on average during 2010 and 2011.
The World Bank report warns that, despite the return to positive growth, it will take several years before economies recoup the losses already endured.
It estimates that about 64 million more people will be living in extreme poverty (below $1.25 a day) in 2010 than would have been the case had the crisis not occurred.
Further, over the next 5-10 years, increased risk aversion, a more prudent regulatory stance, and the need to curb some of the riskier lending practices during the boom period that preceded the crisis can be expected to result in scarcer, more expensive capital for developing countries, the report said.
"As international financial conditions tighten, firms in developing countries will face higher borrowing costs, lower levels of credit, and reduced international capital flows.
As a result, over the next 5-7 years, trend growth rates in developing countries may be 0.2 to 0.7 per cent lower than they would have been had finance remained as abundant and inexpensive as in the boom period," said Andrew Burns, lead author of the report.
The report finds that very relaxed international financial conditions from 2003 through 2007 contributed to the boom in developing country finance and growth.
Much lower borrowing costs caused both global capital flows and domestic bank lending to expand, which contributed to a 30 per cent hike in investment rates in developing nations.
The resulting expansion of the capital stock explained more than half of the 1.5 percentage point rise in the rate of growth of potential output among developing countries, the Bank said.