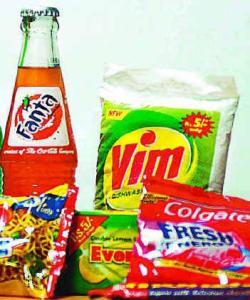 Fake products are increasingly contaminating the Rs-1 lakh crore (Rs 1 -trillion) fast moving consumer goods market. They harm one's health and also cost the exchequer nearly Rs 2,700 crore (Rs 27 billion) annually, say analysts.
Almost 15 per cent of consumer goods sales in India is estimated to be of fake products.
In value terms, it stands at about Rs 15,000 crore (Rs 150 billion). At an 18 per cent tax rate, the loss to the exchequer is Rs 2,700 crore (Rs 27 billion).
Despite efforts to curb counterfeiting of FMCGs, it remains rampant, especially in rural areas, where consumer awareness is low and the ability to track shipments is poor.
This has prompted FMCG players to devise ways to act on units that manufacture these products. Emami, for instance, has a separate cell headed by an ex-assistant commissioner of police, whose job is to investigate leads provided by the in-house sales force on places where counterfeit products of its popular brands are made.
Once these are identified, the team and local authorities raid these factories. "On an average, we do at least two to three raids per month," says Aditya Agarwal, director.
Most companies are adopting this model of conducting raids with the help of the local authorities.
"It works faster that way," says C K Ranganathan, chairman & managing director, CavinKare.
Godrej Consumer Products Ltd managing director, Dalip Sehgal, rues: "Counterfeiting has not only led to a lower offtake in products in particular towns but also has an effect on our top line and bottom line".
GCPL has been facing pass-offs of many of its various products, such as Powder Hair dye, deo spray and their toilet soap brand, Godrej No.1.
"The menace is spread across the country," notes Sehgal.
Dabur India recently conducted raids across units in West Bengal, Rajasthan and Ghaziabad involved in the production of Dabur lookalike products. The company had complained to local authorities and seized personal and healthcare products and medicines worth about Rs 2 crore (Rs 20 million).
The company has mapped locations where these activities take place and is going after the spurious manufacturers systematically.
"Leads have been obtained on packaging and label suppliers as well, and Dabur India will spare no efforts to get them all behind bars," said Dabur India director P D Narang.
The seized goods included 50,000 labels of Dabur Gulabari, over 30,000 labels of Dabur Keora water and both filled and empty bottles of different sizes of Dabur Lal Danth Manjan, Honitus and Active Antacid.
Hindustan Unilever has had reports of 118 spurious varieties of their products, Fair and Lovely and Clinic Plus, available in the market. HUL says it has a 'three-pronged approach' to address this.
It includes, as a spokesperson, from the company puts it:
"Creating awareness regarding the problem; engaging with enforcement agencies on implementation and government bodies for changes in laws; and actively taking market action through raids and seizures."
The bigger the company, the larger is its spurious counterpart. To counter this, some companies have changed the packaging and design of their products at frequent intervals to make it difficult for counterfeiters to duplicate these easily.
But, this is expensive, which makes conducting raids the most common pratice of dealing with the menace.
Companies also say most manufacturers of spurious products work in collusion with wholesalers and retailers who stock these, eventually pushing them to unsuspecting consumers, lured by the low price.
The discount in price between the original and fake product is said to be 20-25 per cent. So, even as companies try getting manufacturers under their net, the distributor-retailer end is unaddressed.
By some accounts, almost 10 per cent of the retail universe in the country is dealing in spurious products.
"Though the law is stringent, its enforcement is weak," says the legal head of a FMCG company. "There are discretionary powers given to the enforcement authorities, which means perpetrators are generally not penalised too heavily for the crime they commit."