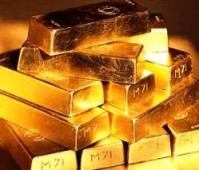 Gold prices rose by Rs 60 to Rs 16,800 per 10 gram in the bullion market on Monday on fresh buying by stockists to meet the marriage season rush and firming overseas trend.
Standard gold and ornaments rose by Rs 60 each to Rs 16,800 and Rs 16,650 per 10 gram respectively, while sovereign gained Rs 50 at Rs 14,000 per piece of eight gram.
Traders said gold prices moved in tandem with international markets that saw prices rise for the first time in four days on speculation that the dollar's decline will revive demand for the precious metal as an alternative asset.
Gold in Asian region rose 0.6 per cent to $1,099.10 an ounce as the dollar dropped, reviving demand for the precious metal.
The dollar index, a six-currency gauge of the American currency, lost as much as 0.2 per cent.
Domestic prices were also helped by pick up in buying activity by stockists and jewellery fabricators to meet the ongoing marriage season demand.
Prices of the other precious metal, Silver, also rose by Rs 100 on increased off take by industrial units and coin makers.
Silver ready rose by Rs 100 to Rs 27,200 per kg and weekly-based delivery by Rs 150 to Rs 26,850 per kg.
Silver coins traded higher by Rs 100 to Rs 33,600 for buying and Rs 33,700 for selling of 100 pieces.