A study conducted by the Marketing and Development Research Associates have put two myths to rest. One, that corruption is most rampant in government offices, and two, lower and middle rung executives were the most corrupt in India.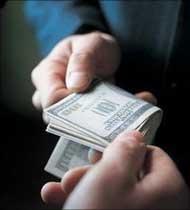 According to the study conducted by MDRA - a market research and consulting firm - eighty six per cent of the respondents who said that corruption is a common phenomenon among India Inc, said senior management is the most corrupt.
The study pointed out that the level of corruption is seen increasing from the lower management (83.4 per cent) to the middle management (88.1 per cent) to the senior management level (90.2 per cent).
The employees, who took part in this study, agreed that monetary transaction at 39.2 per cent is the most prevalent form of corruption. The others being exploitation (17.1 per cent), breach of trust (14 per cent), fraud (13.3 per cent), seeking sexual favours (12.9 per cent) and nepotism (3.4 per cent).
And when it came to activities where corruption was most rampant, the study found that 36 per cent of the respondents said pointed their fingers at the process of recruitment followed by promotion and performance appraisal (24 per cent).
Twenty-two per cent of the respondents said maximum corruption occurs in the area of procurement followed by project implementation (17 per cent).
About eighty percent believe that Satyam is not an isolated case and most Indian corporate houses dress up their balance sheets.
Asked about sectors that are most corrupt, a whopping majority of eighty-eight percent said IT-ITeS and consulting companies are biggest devils, followed by telecom and retail.
The study further stated while 95 percent of companies in Mumbai cooked up their balance sheets, about 30 per cent of those in Hyderabad did the same.
MDRA interviewed 742 employees across Delhi, Noida, Gurgaon, Mumbai, Pune, Bangalore, Kolkata, Chennai and Hyderabad of which 405 were male and 337 were female.