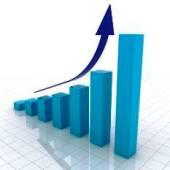 Leading economists have pegged economic growth at 6.9 per cent for the current fiscal, much lower than the government projection of 7.75 per cent, as the farm sector is expected to drag down the economy.
Leading economists, in a survey conducted by the industry body Federation of Indian Chambers of Commerce and Industry, have also broadly opined that the withdrawal of the stimulus measures should happen only in sectors which are showing strong growth.
The survey predicts that agricultural growth would contract by 1 per cent this fiscal, but the industry would grow by 8.5 per cent, and services by a smart 9 per cent.
"Leading economists, drawn mainly from the banking and financial sectors, have forecast the gross domestic product growth for 2009-10 at 6.9 per cent, with agriculture growing at a negative 1 per cent, industry by 8.5 per cent and services by 9 per cent. . ., said the Ficci Economic Survey Outlook released in New Delhi on Wednesday.
The survey further said a sudden withdrawal of stimulus would adversely affect the growth trajectory.
"The government may look at withdrawal of stimulus in sectors which are showing good performance. Exports must continue to get support, as the outlook for the global economy is still uncertain," the survey pointed out.
The GDP growth is projected to come down to 6.8 per cent in the third quarter of this fiscal, against a stunning 7.9 per cent in the second quarter.
The economy grew by 6.1 per cent in the first quarter of this fiscal.
However, economic expansion would rebound in the fourth quarter with a 7.5 per cent growth.
The Ficci survey of the economists said agriculture and allied activities would contract by 2 per cent in the third quarter due to the wide-spread droughts, and would be stagnant in the final quarter of the fiscal.
However, the survey predicts that the industrial growth would be above 10 per cent in the third and fourth quarters, while services would expand by 8.8 percent in Q3 and and 9 percent in the fourth quarter.
The government, which had announced a string of measures, including cut in the excise duty, to help the domestic economy impacted by the global downturn, is expecting to close the current fiscal with a 7.75 per cent on the back of strong Index of Industrial Production numbers since November.