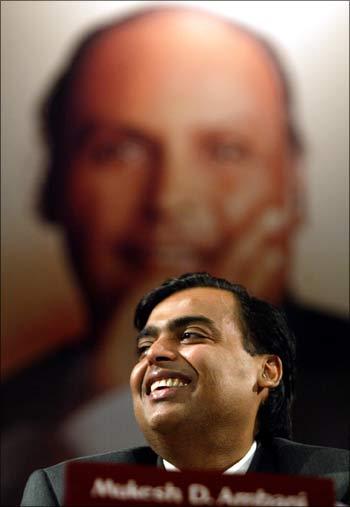 Reliance Industries chairman Mukesh Ambani has said the recent controversy over making knowledge of Marathi mandatory for issuing taxi permits in Mumbai was unfortunate and said the metropolis belongs to all of India.
"We are all Indians first. Mumbai, Chennai and Delhi belong to all Indians. That is the reality," he said on Tuesday during a panel discussion at the London School of Economics organised to release Rajya Sabha MP N K Singh's book, Not by Reason Alone: The Politics of Change.
Ambani said while India's corporate world had moved away from 'licence raj' after economic liberalisation, Mumbai's 'poor taxi-wallah is still dealing with licence raj'. His remark was received with applause from the gathering.
Responding to a question on the controversy over taxi drivers and Marathi, Ambani said the real challenge and opportunity was whether India was able to create 15 to 20 million new jobs every year.
The Maharashtra government has, however, rescinded its order on making knowledge of Marathi a pre-condition to awarding taxi permits a day after proposing it.
"Employment is the biggest challenge in the coming years. We are not moving fast enough," Ambani said.
Rajya Sabha MP N K Singh termed the controversy over renewing taxi licences in Mumbai as 'misplaced populism'.
Ambani noted that many Indian professionals abroad were returning to India because of the many opportunities for self-fulfillment in India.
He said the next 20 years would be full of opportunities for the returning Indian professionals that will have an impact on millions of people back home.
"India is blessed with connections in Europe and in the United States that raise our status as a country. The achievements of our Diaspora help India, but whatever had to be done in the West, has been done. Now is the time to come back; there are more opportunities in India," he said.
After the event, Ambani was mobbed by eager students, most of them Indians, as they vied to speak to him and take photographs with him. He cheerfully interacted with them and invited them to Mumbai.
Security personnel had to intervene to escort Ambani to his car.
Image: Reliance Industries Ltd chairman Mukesh Ambani. Photograph: Arko Datta/Reuters