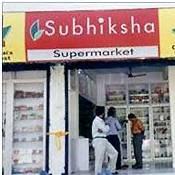 Subhiksha Trading Services, the retail chain whose stores have been closed for more than a year for lack of money, is planning to reopen some through a franchise model, say sources.
Renovation at two shops in the city are in full swing and advertisements for sales boys and girls have been placed. A notice outside one of the shops stated the salary would be in the range of Rs 3,500 to Rs 6,000 per month.
When a staffer of this newspaper took photographs, staffers from the shop came out and snatched the camera, returning it only after deleting all photos taken.
E-mails sent by this correspondent to R Subramanian, promoter and managing director, remained unanswered.
Subramanian had earlier stated the retail chain would require Rs 300 crore (Rs 3 billion) to get back into business. However, creditors have decided not to lend any more money and there are petitions being heard in the High Court to wind up the company. Subhiksha had also filed for a compromise with its creditors, but this was dismissed.
ICICI Bank had stated that Subhiksha has an exposure of Rs 870 crore (Rs 8.7 billion) to banks, Rs 107 crore (Rs 1.07 billion) to unsecured lenders and Rs 250 crore (Rs 2.5 billion) reserves, "which none of us know where it went". The bank has also asked for a probe.