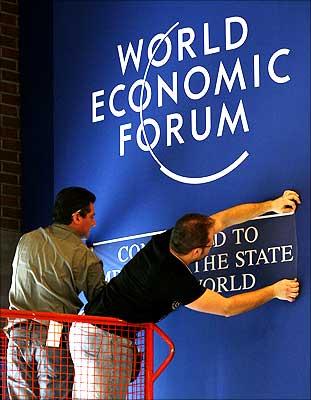 Over 2,500 global leaders in business and politics arrived in this Swiss resort on Wednesday to put their minds together on how best to support the fragile recovery following the worst economic crisis since the 1930s.
From India, Road Transport Minister Kamal Nath is leading a contingent comprising ministers and 100 CEOs to the 40th edition of World Economic Forum that will discuss over five days starting today, among others things, the need for stimulus measures to support economic growth.
The theme of this year's conference is 'Improve the State of the World -- Rethink, Redesign and Rebuild'.
The International Monetary Fund yesterday forecast the global economy to expand at nearly 4 per cent in 2010, better than its October 2009 estimate of 3.1 per cent, but said growth still depends on stimulus.
"What we want to do in Davos is look into all issues on the global agenda, but we want to do so in a systematic, integrated and strategic way, particularly addressing the issue of global cooperation", WEF founder Klaus Schwab said ahead of the meeting, second since the 2008 economic crisis.
Among those attending the high-profile conference are French President Nicolas Sarkozy and Swiss President Doris Leuthard.
Besides Nath, the Indian side includes Commerce and Industry Ministry Anand Sharma, Planning Commission Deputy Chairman Montek Singh Ahluwalia and corporate honchos Anand Mahindra, Sunil Mittal and Kris Gopalakrishnan.