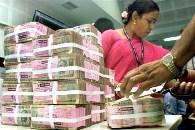 India Inc's deal making saw a sharp decline in 2009 with just $24 billion worth of mergers and acquisitions and private equity deals taking place, but 2010 is likely to be a year of "opportunity," according to a report by a consultancy firm.
The overall value of deals (M&As and PEs) announced during 2009 was $24.01 billion through 590 transactions, global consultancy firm Grant Thornton said in its 2009 annual issue.
"The year 2009 was a year of global economic uncertainties. We saw the M&A volume decline, private equity investors were happier to wait and watch than invest...," Grant Thornton specialist advisory services partner CG Srividya said.
Srividya further added, "we see 2010 unfolding into a year of opportunity. We expect to see a significant but carefully planned increase in activity in cross border deals as well as private equity investments in 2010."
Though big-ticket deals like Tata-Corus and Hindalco-Novellis were absent from the list in 2009, yet India Inc's resilience amid slump was evident from some cancelled multi-billion deals such as Bharti-MTN, Sterlite-Asarco.
"Though these deals may have got cancelled, they clearly indicate the appetite that India Inc has for deal making," the report added