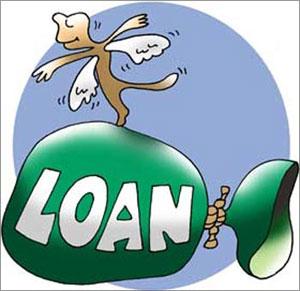 Home, car and personal loans are now certain to be more expensive with the Reserve Bank of India, under pressure to combat rising inflation, on Friday raising the mandatory cash reserves of banks to suck over Rs 36,000 crore (Rs 360 billion) out of the system.
Bankers said that both lending and deposit rates are likely to go up by at least 1 per cent as a fall out of RBI announcing a hike in CRR.
With the RBI deciding that banks now need to increase the amount of cash they have to keep with the central bank (the cash reserves), the problem is that banks will not earn any interest on this amount.
So, banks will be left with little option but to hike interest rates to make up for that loss of interest they would normally have earned had CRR been lower.
And even though RBI may have raised CRR by 0.75 per cent, the interest you may have to pay when you take a home, car or personal loan is likely to be much more than that.
Floating rate home loans
Floating rate home loan borrowers may have to brace up for another round of hike in their interest commitments. The CRR hike could lead to a general rise in interest rates in the economy, at times leading to resetting of equated monthly installments on flexible home and personal loans, say experts.
Effect on EMIs
Repayments may increase by over Rs 3.5-4 lakh (Rs 350,000-400,000) over a 20-year period on a Rs 20 lakh home loan, if the country's banks hike interest rates by up to 1 per cent following the tight monetary measures announced by the Reserve Bank of India on Friday.
Consumers may have to fork out up to Rs 1,500 more every month for a home loan of Rs 20 lakh, as bankers say that interest rates could go up by 0.75-1 per cent after RBI's hawkish policy aimed at containing inflation.
Personal loans
The interest rates on personal loans too are likely to rise, for it is expected that banks will pass on the burden to the consumers.
Car loans
With RBI hiking rates, your dream car may have become more expensive. Car loan lenders have jacked up interest rates on loans by anything between 75 to 100 basis points, and as a double whammy to you, even car manufacturers are increasing prices due to heavy input costs.
Following the announcement of the RBI credit policy, the market is trading volatile and has deepened its losses further. Sensex is trading at 16040, down 266 points from its previous close, and Nifty is at 4783, down 83 points. CNX Midcap index is down 2% and BSE Smallcap index is down 1.9%. The market breadth is negative with advances at 182 against declines of 1086 on the NSE.