Under the banner of newly renamed Global Indian IT Professionals Association, Indian IT professionals celebrated the 60th anniversary of India's Republic Day in Silicon Valley.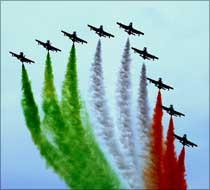 This event attended by a large number of Indian IT professionals in the Silicon valley was inaugurated by Ash Kalra, San Jose City Council Member.
"Indians have been contributing so much to the country not just US but to the world, helping families and the future of theirs," she said.
"I am attending many events of Indian Republic Day but this is the only community organised event that is happening on the same day that of India's Republic Day," Kalra said.
Professionals from organisations like Cisco, eBay, PayPal, Oracle, Sun, Intel, NetApp, as well as early start-ups, and independent consultants attended the event.
Sanjay Goyal, CEO of Droisys, Shishu Bedi, COO of AdMaxim and Sucheta Kapuria, founder member - TiE and past president of Indian Chamber of Commerce were also present on the occasion.
In his keynote address Bhaskar Enaganti, a well-known serial entrepreneur and currently the CEO of GloMantra Inc, a consumer Internet start-up, said that IT industry is the only industry, which is democratic and truly centered around a common person.
"This is the industry where established players can get challenged by one IT professional - such is the democratic nature of the IT industry," Enaganti said.
Six months old, GITPRO, earlier known as IT Professionals of Indian Origin, primarily focuses on fostering the leadership and personal development for IT professionals of the Indian Origin. It has its chapters in the Silicon Valley, Contra Costa County, Denver, Washington DC, Seattle, Singapore, Hyderabad and Bangalore.
"The main objective of GITTPRO is to bring together IT professionals from India to educate them on the latest trends in the industry, foster the leadership, advocate the issues related to IT profession, interacting with education policy makers and continuously improve the IT related education," said Khanderao Kand of GITPRO.