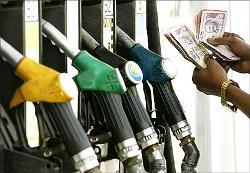 New chief statistician T C A Anant said on Monday hiking fuel prices was a better option than keeping them artificially low and widening the fiscal deficit, even as the Opposition organised a nationwide strike against the government's decision on Monday.
"On the balance, it would be better to make fuel prices rise than to let Budget deficits grow," Anant, who recently took over as secretary of the Ministry of Statistics and Programme Implementation, told PTI.
Anant also hinted that the government's move to hike fuel prices should have come sooner, but acknowledged that it was difficult to time these kinds of decisions because of 'multiple pressures' in a democracy.
"It is very difficult to time these kinds of things, trying to time these things right is next to impossible, particularly in a democracy where you have multiple pressures at any given point of time. It is a right policy and it should have been taken earlier," he said.
Explaining his reasoning for supporting the hike, he said if an open-ended fuel subsidy is maintained, huge budget deficits would occur when global petroleum prices rise.
"This, too, contributes to generalised inflation," Anant said.
Asked whether diesel prices should also be deregulated like petrol, he said it is not a question of whether you should give a diesel subsidy or not, the relevant point is whether it should be given in a manner that it has an unbounded effect on the budget deficit.
"Then what you are doing is you are converting uncertainty in a single commodity's price into a generalised uncertainty over your entire price level," he explained.
Anant said an economy cannot have a strict regulated regime for fuel prices, as it will widen the Budget deficit.
"You can continue a policy of management, where you temper the global effects on the domestic economy, but you cannot have a strict regulated regime that we will not allow diesel prices to rise. What does it mean? It means that you have created an open-ended draw on your Budget," he said.
The chief statistician said since a rise in petroleum prices makes them relatively expensive vis-a-vis other fuels, some kind of substitution of these petroleum products will also happen, leading to a dampening impact on inflation.
"Rise in fuel prices will lead to some effect on general price level, but because it changes relative prices, there will be some substitution. So, the effect would be dampening. If I don't do it, I will be creating generalised inflation," he said.
The government had last month deregulated petrol prices, leading to a hike of Rs 3.5 a litre, while diesel rates were increased by Rs 2 a litre, LPG by Rs 35 a cylinder and kerosene by Rs 3 a litre.
The Opposition NDA and Left Front on Monday protested against the government's move to raise fuel prices and rising inflation.
Though food inflation has moderated substantially by a whopping 3.98 percentage points to 12.92 per cent for the week ended June 19, food prices are quite high.
Earlier, RBI had said, "There has been some moderation in food price inflation, but the price index of food articles continues to increase."
RBI further said, "Although entirely justified in terms of long-term fiscal and energy conservation objectives, the recent increase in fuel prices will have an immediate impact of around one percentage point on WPI inflation, with second round effects being felt in the months ahead."
Overall inflation stood at over 10 per cent in May. Petroleum Secretary S Sundareshan had said the decision to hike fuel prices will help bring down the revenue oil PSUs lose on selling fuel by about Rs 21,000 crore to Rs 53,000 crore (Rs 530 billion).
"This (Rs 53,000 crore) under-recovery will be borne by the government and upstream oil companies like ONGC," he had said.
A lower fuel subsidy bill may help the government reduce the fiscal deficit substantially. It was estimated to come down to 5.5 per cent of gross domestic product during 2010-11 from over 6.6 per cent last fiscal.