The Anil Dhirubhai Ambani Group's (ADAG's) gas transportation company, Reliance Natural Resources Ltd (RNRL), will merge with sister firm Reliance Power (R-Power) in a Rs 50,000-crore (Rs 500 billion), all-stock deal.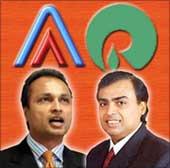 The board of directors of the two companies, in meetings held on Sunday, approved a swap ratio of 4:1, meaning RNRL shareholders are to get one R-Power share for every four they hold. The ratio is based on the valuation made by consultancy firm KPMG, a statement issued by the two companies said.
The proposed merger is subject to approvals of the shareholders of R-Power and RNRL, the stock exchanges, the high court in Mumbai, and all other requisite permissions, sanctions and approvals, it said.
The merger will take the market capitalisation (m-cap) of R-Power to a little over Rs 52,000 crore (Rs 520 billion). Its m-cap was Rs 41,979 crore (Rs 419.79 billion) at the close of trading on Friday and that of RNRL was Rs 10,394 crore (Rs 103.94 billion).
R-Power will retain the assets and people of RNRL, a company with a turnover of Rs 298 crore (Rs 2.98 billion), and continue to do business in the areas pursued by it, people close to the development said. After the merger, the company's net worth will exceed Rs 16,000 crore (Rs 160 billion) and it will have 600,000 shareholders. The net worth of RNRL is Rs 1,900 crore (Rs 18 billion), the statement said.
However, the combined market value of the two ADAG firms does not compare well with the Rs 123,000 crore m-cap that R-Power commanded on February 11, 2008 - the day it got listed on the stock market after a Rs 11,500-crore (Rs 115 billion) initial public offer, the biggest IPO in India's history.
The listing saw R-Power catapulting into the elite league of Rs 1-trillion companies, with the scrip touching an intra-day high of Rs 599.90. However, it soon slipped below the IPO price of Rs 450 a share, making its membership in the Rs 1-trillion (Rs 1 lakh crore) m-cap group shortlived.
The merger will accelerate R-Power's plans to set up a 10,000-Mw gas-based power plant, set in train with its Gas Supply Master Agreement with Mukesh Ambani's Reliance Industries Ltd (RIL) last week. "The move will help R-Power accelerate its backward integration plans from a pure thermal power generation company to quickly venture into other value chains of energy business," said an industry observer.
R-Power, currently with about 1,000 Mw of generation capacity, plans to implement about 37,000 Mw of power projects. RNRL's shareholders, about 80 per cent of them also shareholders of R-Power, will now get an opportunity to join the latter's power dreams. Over 80 per cent of RNRL shareholders had received their shares free on the demerger from RIL in 2006, as part of a settlement within the Ambani family.
Sources said the move would also make R-Power a domestic power company with one of the largest coal reserves. It has about four billion tonnes of coal reserves in Indonesia and India. RNRL has 45 per cent interest in four coal-methane blocks, spread over 3,251 sq km and estimated resources of 193 billion cubic metres, and a 10 per cent share in an oil and gas block in Mizoram, with an acreage of 3,619 sq km and reserve potential of up to 28 bn cu m.