Driven by Reliance Infratel's $10.86 billion merger deal with GTL Infrastructure, the total value of merger and acquisition deals in the country jumped nine-fold to $24.8 billion in the second quarter of 2010.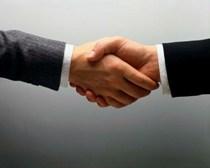 According to a monthly report of VCCEdge, the financial research platform of VCCircle.com, the M&A deal value during the April-June period touched $24.8 billion, taking the total M&A kitty so far this year to $48 billion.
In comparison, it was $2.8 billion in the second quarter of 2009. The deal count also witnessed an upward trend and surged to 182 in Q2 of the 2010 calendar year, compared to 98 in the year-ago period.
The period saw as many as 91 domestic deals worth $14 billion, compared to 50 deals worth $1.7 billion in the year-ago period, the report said.
While the number of outbound deals tripled from 22 in Q2 of 2009 to 66 in the same quarter of this year, the number of inbound deals decreased to 23 in the second quarter of 2010 as against 24 deals last year during the same period.
Big tickets dominated the M&A space this quarter as larger deals (worth $100 million and above) accounted for as much as 96 per cent of the total capital invested in the second quarter this year.
"Q2, 2010, saw some big tickets deals, which sent the total M&A deal value soaring. This signalled the return of investor confidence and liquidity to the market," the report noted.
The top transaction in the April-June period was Reliance Communication subsidiary Reliance Infratel's $10.86 billion deal to merge its telecom tower business with GTL Infra.
The combined entity would be the world's largest independent telecom infrastructure company, with 80,000 towers.
Other major M&A transactions during Q2 include Abbott's $3.72 billion buyout of Piramal Healthcare's solutions business and Hinduja Group's acquisition of Luxembourg-based KBL European Private Bankers for $1.67 billion.
Meanwhile, a sector-wise analysis shows that telecom, healthcare and financial services were the most targeted sectors, attracting deals worth $12 billion, $3.8 billion and $3.4 billion, respectively, in the latest quarter.
In terms of deal volume, the most active sector was information technology, which cornered 38 deals, followed by Consumer Discretionary and Industrials, with 30 and 23 deals respectively.
The five major deals in the second quarter of this year accounted for over 75 per cent of the total M&A deals, the report added.