State-run Indian Oil Corporation plans to set up solar power panels and power plants at its over 18,100 retail outlets across the country at a cost of Rs 500 crore (Rs 5 billion).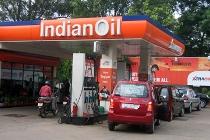 The company will also set up solar and wind power plants at various locations in the country with an investment of over Rs 200 crore (Rs 2 billion).
"We want to be an aggressive participant in the Jawaharlal Nehru National Solar Mission. IOC has carved a new project division called Renewable Energy and Sustainable Development within the organization which would take up projects on renewable energy. Modalities of such projects are being worked out at present," said an official from IOC.
The executive added that the company would shortly invite tenders on an all-India basis to shortlist possible sites to set up the solar and wind power plants.
At its retail outlets, on the other hand, the company will set up solar power panels of around 30 kilowatt each on a pilot basis to meet the power consumption needs of the retail outlets.
"We will first begin the project on a pilot basis and later expand it toward the end of the Eleventh Five Year Plan. We will put in place a process of finalising the details of these renewable energy projects," the official added.
IOC already has two pilot solar charging stations commissioned in Uttar Pradesh in 2008 and in Orissa in December 2009.
After the announcement of the Jawaharlal Nehru Solar Mission in 2010, at least 25 companies, which include public sector power producers, oil marketing companies and even jewellers like Silver Smith India, came forward with investment proposals worth over Rs 100,000 crore (Rs 1,000 billion) in the next three to 10 years.
The national solar mission has set a target of generating 20,000 Mw of solar power by 2022 and another 2,000 Mw of off-grid solar installations. In the first phase between 2010 and 2013, the target is to reach 1,100 Mw of grid connected solar power and another 200 Mw to electrify power-starved villages with solar power. In the next phase of four years, plans are to add another 4,000 Mw of grid connected power and 1,000 Mw of off-grid power.
Domestic companies such as Tata BP Solar and Moser Baer are now increasing the manufacturing capacity to cater to the demand that will come up in the coming years as the government will soon finalise project proposals for about 1,000 Mw.
Project developers of solar power have been offered many fiscal incentives, including a 10-year tax holiday for photovoltaic and thermal solar plants set up by 2020, reduced Customs duty and zero excise duty on specific capital equipment, critical materials and project imports, besides loans at cheap interest rates. Solar equipment makers will also get several incentives as per Special Incentive Package, for setting up integrated solar manufacturing plants.