TeamLease Services, a staffing solutions company, has joined hands with the government of Karnataka to set up the Karnataka Employment Center , the country's first employment exchange based on a public-private partnership model.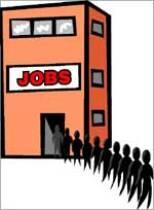 The KEC will deliver services covering registration, assessment, counselling, training, certification and placement. The nodal partner agencies on the government side for the initiative are the Department of Employment and Training, and Karnataka Vocational Training & Skills Development Corporation.

TeamLease is right now in talks with Maharashtra, Gujarat, Rajasthan and Orissa governments to replicate the KEC model there, though with some customisations in each of the state. TeamLease sees the government driving the walk-ins and registrations from job-seekers.

The project is a convergence of training and employment. TeamLease has invested between Rs 75 lakh (Rs 7.5 million) and Rs 1 crore (Rs 100 million) on this project in setting up the infrastructure for the centre. It is expected to train and place over 2,000 candidates in the initial 12 months, with the capability to be expanded over time. 

Manish Sabarwal, chairman, TeamLease Service, said, "The private sector alone cannot solve the problem of providing employment and training and so also is the case with the government."

As a pilot project, TeamLease took over the operation and control of the employment exchange in Mangalore in November 2009. 

S R Umashankar, IAS, Commissioner Employment & Training and Managing Director, KVTSDC, had said, "Given the scale of the issue and opportunities in the market, cooperation with and involvement of the private sector is a key requirement."