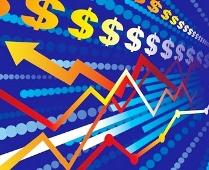 The government said on Monday the manufacturing sector is unlikely to grow at an abnormally high rate as there are capacity constraints.
"Nobody should expect that the industrial manufacturing sector will continue to grow at abnormally high number for a long time to come. There are capacity constraints. . .," Finance Secretary Ashok Chawla told reporters in New Delhi.
Reacting to a slower than expected May industrial output growth at 11.5 per cent, Chawla said the manufacturing sector would continue to see average growth trend now and should grow in double digits in the current fiscal.
This is the eighth straight month of the industrial output clocking a double digit growth.
The manufacturing output, which constitutes around 80 per cent of the index of industrial production, grew 12.3 per cent in May against 1.8 per cent in same month last year, official data released on Monday said.
"Whatever output lag was there in the economy has been filled and the manufacturing sector is now showing the kind of average secular growth which continues to be good and would be favourable for the economy," he said.
Industrial output rose 10.4 per cent in fiscal 2009-10, faster than the 2.8 per cent recorded in the previous year.